Ryusei no Kizuna, Galileo and Meitante no Okite.
All written by the same author and then filmed into dramas.
All equally fantastic, following similar concepts regarding murder and mystery, but presented in three utterly different ways. The fantastic thing is they are all equally heartwarming and memorable.
Yes it's in Japanese hahaha! I can explain to you but I think that would giveaway too much of the plot.
Let's just do an overview.
14 years ago, the Ariake siblings - Koichi, Taisuke, Shizuna, lost their parents in a ruthless murder.
The Ariake siblings survived only because they sneaked out at midnight to watch the Leo shooting stars, and missed the murderer.
They were sent to an orphanage and depended on each other for survival.
The case of their parents' murder was unsolved.
The orphanage director looked after the siblings like they were his own children, even when they were grown up. The two brothers Koichi and Taisuke worked in his shops.
It so happened that Shizuna got cheated of her money once, and in order to get her money back, Koichi devised a plan for revenge. However this turned into a semi-addiction and they went about cheating people. Koichi is the mastermind and scriptwriter, while Taisuke and Shizuna executed the plans.
Along the way, they discovered their parents' murderer and the reason behind it.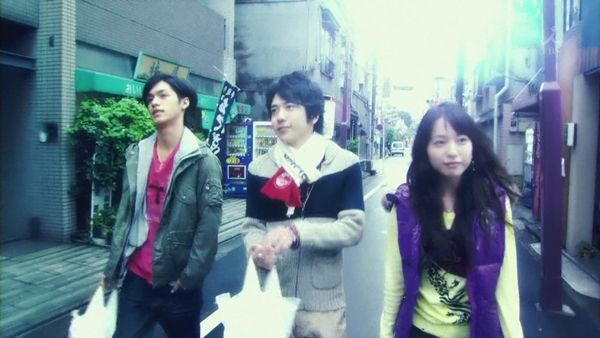 14 years ago, the Ariake siblings lost their parents in a ruthless murder, and they vowed to kill the murderer together when they grow up.
14 years later, they found the murderer.
Now they had to make the choice whether to kill him or forgive him.
What will Koichi, Taisuke and Shizuna do?
Watch it to find out!
The verdict:
5/5 stars! Definitely worth a watch.
If you missed this, you are definitely missing out on a fantastic and heartwarming story of kinship, friendship and love.
Labels: Jap Dramas, July2012
Older Post | Newer Post