Pretty hooked on this drama lately. I first heard about it a few years back, but back then it was difficult to find good quality Japanese dramas - meaning clear graphics and good subs.
Thank goodness for Funshion nowadays, so I can enjoy my favourite Japanese dramas!
Helloooooooo Matsuda Shota!
Matsuda Shota as Akiyama Shinichi
Super loveeeeee this guy ever since I saw him in Hana Yori Dango.
Erika Toda as Kanzaki Nao
Yesssssss it's doe-eyed Erika Toda who appeared in Death Note!
2 familiar faces! We are definitely off to a good start!
Kanzaki Nao received an invitation to participate in Liar Game - a lying cheating game where people fight each other for money.
Enter Akiyama Shinichi.
Kanzaki Nao was told to look for Akiyama Shinichi for help, because he is a genius swindler who single-handedly crushed the MLM company that caused his mother's death.
By the way, he majored in Psychology during university, which explains his knowledge of human nature and how to make full use of them.
With the help of Akiyama, Kanzaki Nao managed to finish the rounds unscathed.
Only to find out, she has to continue playing the game.
The story continues in Season 2.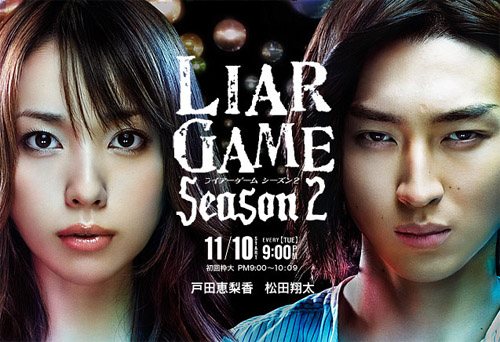 In Season 2, my two favourite characters make an reappearance in the games.
One new character to take note of is Katsuragi, she was Akiyama's classmate during university.
I personally find her a weird woman but hey, she's a genius too.
Definitely Akiyama's nemesis. She'll appear in the second half of the game.
Crazy gambling games that I think is downright exciting.
Especially the way Akiyama manipulates the game.
As usual, Kanzaki wants to save all the players from debt and Akiyama wants to destroy the Liar Game organization. They're a pretty good pair actually.
Kanzaki taught Akiyama how to believe in people again, and as the show progresses, it is evident that Akiyama really trusts Kanzaki.
This is one mind-blowing piece of art.
THE BEST GAME EVER.
The cutest thing about this round is that they are mimicking a battle so they have statuses such as Generals etc. Even though Akiyama is the brains behind the team, he acknowledges Kanzaki as the unofficial leader and takes her opinions seriously.
Akiyama and Kanzaki
The perfect combination of rational and perceptual knowledge.
The second half of the game sees Akiyama and Katsuragi battle it out.
Exciting and mind-blowing as usual. Akiyama surprises you at every turn, especially when you think it is impossible for him to win the round.
SO AWESOME.
So did Akiyama win Katsuragi?
WATCH THE DRAMA YOURSELF.
Wait for my next post about the Liar Game movie, Final Stage.
Labels: Jap Dramas, May2012
Older Post | Newer Post