Tuesday, February 14, 2012 | 12:04 am |
0 comments
Jelly Sandwich Nails
SO PRETTY!
Must go and get the glitter polish and a jelly colour polish when I'm free!
Some vintage design inspired nail art.
Very elegant!
Galaxy Nails.
Love the whole spacey, dreamy, magical feel. The glitter pieces are amazing..
Polka dots! This is really easy! Have attempted and succeeded ;)
Nautical nails!!
Love all the bright colours. Popeye the sailor man, here I come!
These Popcorn Nails are just too cute to resist. The french manicure is a really clean look as well..
I love stripes!! The pastel colours work together perfectly to create this really sweet and warm summer vibe.
Unfortunately, stripes are hard to do. I have wobbly hands.
This is too awesomely cool, in theory I know how to do it. But well.. that's just in theory..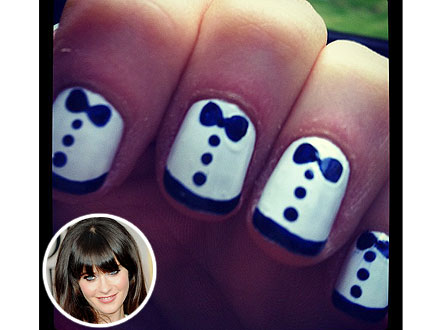 Bow Tie Nails!
Older Post | Newer Post