The Oscars have arrived, and I am thrilled to say that all I care about is how well-dressed these ladies are. This might make me sound like a bimbo, but who cares?!
All girls love a good dose of fashion. :D
Men are all tuxedo, boring. I don't get the difference between a one-button blazer or a two-button blazer. As for the colour, there can only be one safe choice: Black.
In other words?
So since men are boring, let's look at the ladiesssss! ;)
Natalie Portman in vintage, a Dior Haute Couture dress from the 1954 collection paired with Dior shoes.
The red is a nice colour, complements her skin tone with dark hair perfectly. I like how she's able to look classy as always, very elegant and charismatic.
Okay. I am biased. A little. I love Natalie Portman. She looks gorgeous in about anything. She can probably wear a sack and still look as lovely.
Gwyneth Paltrow in a Tom Ford white gown with a cape!
That cape is really cool. Out of all the white gown subscribers of the night, I must say hers stand out the most. Simple, clean cut with a twist.
Michelle Williams in a Lois Vuitton coral gown.
I am loving this gown man!! The pleats and the details, the colour, the cut. It's PERFECT.
It's simple and elegant, yet the splash of colour adds a dash of playfulness. Michelle Williams's pixie cut goes very well with the colour, makes her look young and playful.
♥ x 100!!!
Emma Stone looks resplendent in a

Giambattista Valli

gown..
Yes I love the fuschia colour!!
Hahahaha I love bright colours! The cut shows off her figure, and the high neckline looks modest. But because her shoulders are bare, she still looks really sexy as well!
The best part about this gown, is the huge ribbon at the neckline!
It's daring, it's special, it's cute.
It suits Emma Stone! So pretty!
Is is possible for me to have another
♥ x 100
dress?
Stacy Keibler in a Marchesa dress
Some might argue that she resembles the little gold man on the trophy. But I personally feel she looks lovely! What a sweet smile haha..
THAT HAIR IS SO AWESOME TOO.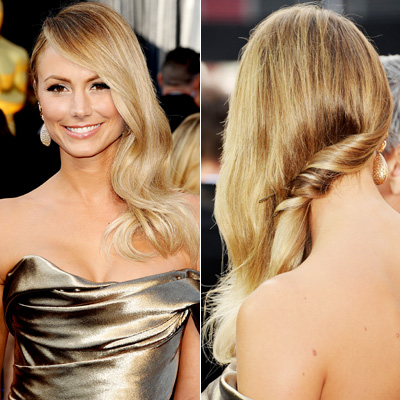 This is her little trick to making her waves stay on one shoulder the entire night.
Nifty.
Milla Jovovich looking gorgeous in a sequinned Elie Saab gown..
There is something about this sequinned gown and Milla Jovovich that makes her looks like an ice queen.
A sexy, beautiful, deadly ice queen.
Very nice indeed...
Jessica Chastain in a baroque embellished Alexander McQueen..
This is so beautiful!! How can anyone hate it?!!?
The gold embellishments are really special, and especially striking against the black dress.
A teeny bit of cultural mix in the dress, looks a little like our Indian traditional costume but the shiny gold reminds me of Egyptian costumes too!
Overall a very beautiful and exquisitely designed dress.
Labels: Feb2012
Older Post | Newer Post