Wednesday, December 28, 2011 | 6:51 pm |
0 comments
I think this is topping my favourite movie of 2011.
I might change my mind after I watch my copy of Midnight in Paris, afterall Woody Allen is a genius..
But oh no matter what We Bought A Zoo will still be in my Top 3 Movies of the Year ;)
Awesome trailer I must say, fills you with hope.
Action-packed cast!
Matt Damon! The last movie of his that left me with a deep impression was The Bourne Supremacy.
Jason Bourne kicks ass. Still looking pretty hot in that tuxedo huh..
All the pretty girls in the movie!
Scarlett Johansson! Oh I love her.. she has an awesome on-screen personality, very witty and fabulous acting skills too. Don't forget, she's absolutely gorgeous as well!
Elizabeth Jones! Say AWWWWW SO CUTE!
She's absolutely adorable, those strawberry blond curls and that cutesy voice, I hope my future daughter turns out just as adorable. HAHAAH!
Elle Fanning! Yes I hear you, she's really related to Dakota Fanning. Younger sister in fact.
They don't look alike. In my opinion. Elle has a sweeter and more naive and innocent look. Dakota possesses more of an edge you know, which is actually good since that doesn't keep her trapped in stereotypical roles. Elle has a sweeter disposition, unless she's given the chance to try a more daring role, I think she'll be stuck in the girl-next-door roles.
Now let's move on..
WELCOME TO ROSEMOOR WILDLIFE PARK
Based on a true story, Benjamin Mee (Matt Damon) plays a widower, who is sick of people's sympathy and worst of all, sympathy casseroles and lasagnas. He's sick of being called to his son's school, because his teenager has decided to react to his mum's death by being insanely rebellious.
He uproots his entire family - his fourteen year old son Dylan and seven year old girl Rosie (Elizabeth Jones) to the countryside. More specifically, a zoo. Well, a lovely house in a zoo.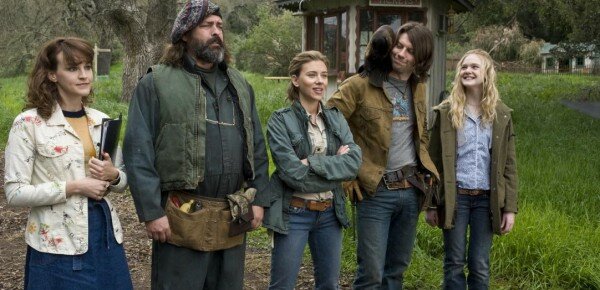 Meet the staff of the Rosemoor Wildlife Park. Kelly (Scarlett Johansson) is the head zookeeper.
Tough job. The zoo was closed down and seriously lacking in many aspects. Sick and old animals, mouldy poles, rusty hinges. Benjamin poured himself into work, just so he'll forget about his deceased wife Katherine.
Spar the Tiger was old and ill. Benjamin was faced with the dilemma of putting the tiger out of his misery of forcing him to live. An emotional scene, triggered by his memory of Katherine, ill and fading away..
The love he felt for his wife was tremendous and overwhelming. Matt Damon you have truly outdone yourself in all the late night reminiscing scenes. It was one of those rare You Cry I Cry movie moments. Maybe it was a hormonal imbalance that made me more susceptible the the emotional scenes, but I'll like to think it was because Matt Damon has unparalleled acting skills. That and the fact that this is the kind of story that everyone can relate to. Not the buying a zoo part, but the acute feeling of loss, the kind of desperation that pushes you to do crazy things, the kind of love so strong that having lost it makes life too unbearable. That kind of pain hurts so deep, it's heart-wrenching.

You work so hard during the daytime to runaway from all the memories yet it creeps up on you at night, when you sit idle with no more work to entertain your mind. Everywhere is a memory. Everything is a trigger.
Everything reminds you of the love you once had but lost. It's impossible to run away from it.
After a whole lotta events and arguments and outbursts and sulking, Dylan's finally embracing the zoo life haha.. Patching things up with his teenager, and that is a significant turning point indeed. Watch the movie to find out more hehh hehh..
After all the hard work and preparations, Rosemoor Wildlife Park is ready to rock and rolllllllll!
The zoo is open and the visitors are rolling in.... Loving Rosie even more in her cute zookeeper uniform doing the commentary on peacocks hahaha..
It was a great movie and Matt Damon has been truly wonderful.
I'm so happy I'll be ending the year with such a heart-warming movie.
Older Post | Newer Post