Watched Black Swan on Christmas Day and freaked myself out badly.
Wikipedia told me it's a psychological thriller. Isn't that a comfort, after I got freaked out about a gazillion times throughout the movie.
The movie opened with the girls of a famous New York ballet company practicing.
The company is going to open a new show, the classical Swan Lake with a twist.
The Swan Queen must possess both the White Swan and Black Swan qualities.
Nina (Natalie Portman) got the role as the Swan Queen and is perfect as the White Swan. However she has problems with the Black Swan, which is what Lily (Mila Kunis) is perfect at.
Nina's techniques and practices are all basically rendered useless because her Black Swan lacks soul.
As she practices harder, and the performance date drew closer, Nina's hallucinations becomes stranger and wilder. Might I add, her hallucinations were way too freaky for me to handle. The theory that Nina must posses both the Black and White Swan qualities stemmed from the doppelganger theory - a duplicate of yourself but with a wholly opposite personality. Nina is having hallucinations of herself, a darker version of herself that's wrestling to surface.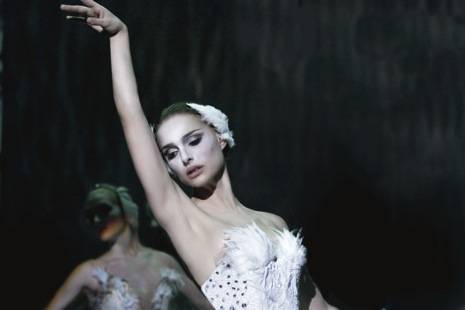 Resplendent in a white feathered gown as the White Swan
I must say the Black Swan costume and makeup is indeed rather seductive and scary.
Nina's hallucinations were getting worse and there were black thorns and feathers sprouting all over her back and arms until she's covered in black feathers. Only in reality, there's nothing.
But the Black Swan really came through in that scene.
The end was tragic, I'm not sure if Nina really died, just like the White Swan did in the Swan Lake. But it's really one hell of a movie and certain scenes that were more creepy, I think they're going to be imprinted on my mind for quite a long time..
Older Post | Newer Post